"Truly Special in Nature"
"The whole thing began with an offhand remark made by Kenneth Montgomery while visiting Jean and me at the President's House in 1974," President-Emeritus John G. Kemeny remembered in 1989. In the months that followed, Kenneth and his wife Harle gradually moved away from their initial idea to endow a named professorship at Dartmouth. They wanted "whatever was done for his alma mater to be truly special in nature." At his next meeting with the Montgomerys, John Kemeny told them how difficult it was to bring highly distinguished visiting professors to Dartmouth. After countless hours of negotiating, the arrangements often fell through because there was no adequate housing available, situated within reasonable distance of campus.
"To the great benefit of Dartmouth, the provision of 'Montgomery House' was one of the objectives that remained central and constant in the vision of Ken and Harle Montgomery," John Kemeny continued, and in the fall of 1977, the Endowment was able to purchase, shortly after her death, the handsome and gracious home of Mrs. Fanny Hazen Ames on Rope Ferry Road.
montgomery_photo.jpg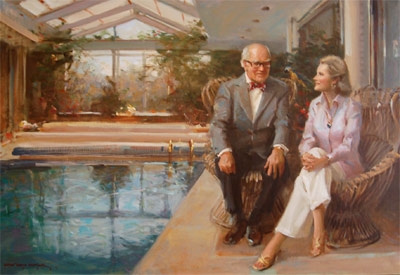 A native of Apalachicola, Fla, Chicago lawyer Kenneth F. Montgomery and graduated from Dartmouth in 1925, the same year that Theodor Geisel (Dr. Seuss) earned his B.A. from the college. His aunt, an heir to the estate of C.W. Post of cereal fame, financed his education and subsequently left him a multimillion dollar inheritance. Kenneth F. Montgomery died in January 1996 at the age of 93.
Born in La Jolla, CA, Harle Montgomery, traveled throughout Europe as a freelance journalist for newspapers in the United States, Canada and London in days before World War II. and returned to the U.S. during the war. In 1973, she married Kenneth Montgomery in her second marriage. The couple traveled between their homes in Chicago and La Jolla for more than twenty years. Harle settled permanently in La Jolla in 1997 after Mr. Montgomery's death. She died in October 2010 at the age of 92.